After I graduated high school, I didn't know what I wanted to do with my life. So like most people I went to college. It wasn't for me. After dropping out, I got a job selling cars to pay back my student loans.
I found some early success with it and fell in love with the job! It wasn't the cars or the selling aspect that I enjoyed. It was serving people and helping others that I found to be the most fulfilling.
One day I was working from a coffee shop, and had a chance encounter with a well-known Realtor in my area. We chatted for only a few minutes but caught up a couple of weeks later on a phone call.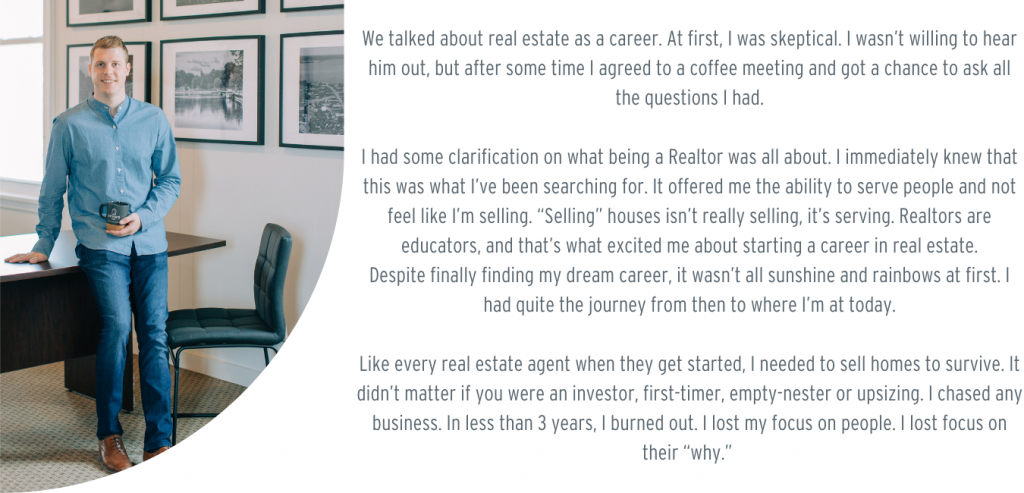 This is when I made a conscious decision to switch my focus from selling to serving. I began listening to clients and attending to their actual needs.

I realized anyone could open the front door to a home and write an offer. The local market was calling for more than that though. They wanted a Realtor who understood their needs. Not only their needs in a home, but the reasons they were moving in the first place.

So I asked myself, "What are the underlying life events that are causing people to consider moving?"

I got straight to work and started interviewing past clients. I wanted to truly understand the psychological factors behind people moving. The results were eye-opening and is the foundation of our business today.